Race Information
Headphones
Headphone use is allowed at your own risk. Please remove them when you approach an officer or a course marshal to ensure that you can hear their directions.
Race Timing
Official time will be kept until 1:30pm (6.5 hours)
Field Limitations
Marathon & Half Marathon – 3500
Relay Teams – 100 teams of 4 (400 runners)
5K – 750
Registration
---
---
Pre-Registration is required for all Sunday events (Marathon, Half, Relay, 20 mile)
Registrations are accepted at the Expo on Saturday for all events except the Med City Kids' Marathon.
Fitness Expo
Saturday May 27, 2017, 10:00 a.m. – 7:00 p.m.
Location: Mayo Civic Center Exhibit Hall, 30 Civic Center Dr SE, Rochester.
Free and open to the public
Race packet pick-up location.
Hands-on health and fitness exhibits.
Special offers and great bargains on running and fitness gear.
Race Packet Pick Up
Please pick up your Race Packets at the Med City Expo on Saturday May 28th from 10:00 a.m. to 7:00 p.m. at Mayo Civic Center Exhibit Hall, 30 Civic Center Dr SE, Rochester. Race day packet pick up will be available at the start, Sunday, 6:00 a.m. - 6:40 a.m.
Race Day Photos
SportsPhotos will be the official photographer for all 2017 Med City Events.

Vendors
Vendors interested in exhibiting at the Expo can contact Wally Arnold at 507-254-2703 or medcityevents@outlook.com.
Cost for an 8'x10' booth is $300 or $500 for two booths with a 20% discount for not-for-profit organizations.
Advertisers
Race packet insertions are available for a $100.
Advertisements should be shipped by May 1st to:
Med City Marathon
940 Somerby Parkway NE
Byron MN 55920.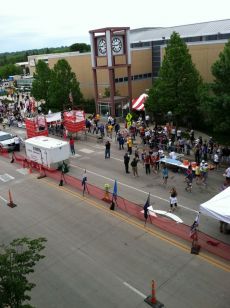 Volunteers
Please thank our volunteers when you see them — without them there would be no races!
To volunteer, contact race director:
Wally Arnold, at
medcityevents@outlook.com or
507-254-2703.
Volunteer opportunities include:
Water Stop Volunteer: hand out beverages to runners.
Course Marshal: direct runners and helps them stay on course.
Bus Chaperone: answer questions and provide directions to runners on the shuttle buses. Training is provided.
Finish Line Volunteer: variety of positions including handing out medals and directing runners.
Awards
Awards will not be mailed out. You must pick up your award in person or have someone pick it up for you.
Pacers
A pacer is an experienced runner who leads a group of runners to the finish line with an assigned time goal. The pacer carries a sign showing the designated time goal.
For example, if your goal is to break the two-hour mark in a half marathon, you line up with the 2:00 pacer at the start line. You then run with the pacer, who will run even "splits" at a 9:10 per mile pace. The 2:00 pacer will set a rock solid even pace for that specific group with the goal of leading the group over the finish line at 1:59:59.
Terra Loco Pace team will be our pacers. There is no need to sign up – just find your designated time goal and join the group. The following pace groups are available:
Marathon pace groups: 3:05, 3:15, 3:25, 3:45, 4:00, 4:15, 4:30, 4:45, 5:00.
Half Marathon pace groups: 1:35, 1:40, 1:45, 1:50, 1:55, 2:00, 2:10, 2:15, 2:20, 2:30.
Weather
Average temperatures for May in Rochester, according to the National Weather Service Weather Forecast Office, are:
High: 68.7F
Low: 47.4 F
Shuttle Bus Information
Shuttle buses are provided from the corner of 1st Avenue SE and 1st Street SE next to the Civic Center Parking Ramp to the start area at Byron Elementary School.
The first bus leaves at 5:20 a.m. The last bus leaves at 6:20 a.m.
Shuttles are for participants of the marathon, half marathon, 20-mile run and relay teams only.
NO SHUTTLES are provided FROM THE FINISH BACK TO BYRON.
Runners are encouraged to use the shuttle as there is limited parking at the start in Byron.
Civic Center and 1St St SE parking ramps have free parking on weekends. Rochester Parking Map (http://www.rochesterparking.com/parkingmaps/parkingmaps.htm)
Please arrive early and proceed to the first bus in line so we can get everyone to the start in a timely manner.